Backyard Accessories Contractors
Big or small, we build it all: Pavers, hot tub landing areas, benches, brick structures, concrete patios or slabs, outdoor bars or entertainment areas, and more.
What goes into building the Perfect Deck?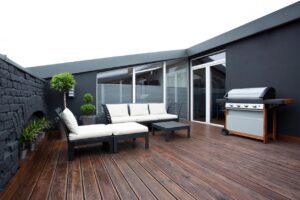 With BNB Decks,  you can choses between different materials and either a flat or sloped surface capable of supporting weight, similar to a floor, but typically constructed outdoors, often elevated from the ground, and usually connected to a building.
What does Deck Mean?
The term is a generalization from the deck of a ship. A level architectural deck may be intended for use by people, e.g., what in the UK is usually called a decked patio. "Roof deck" refers to the flat layer of construction materials to which the weather impervious layers are attached to a form a roof. It is known as the "roof deck", and they may be either level (for a "flat" rooftop) or sloped.